What is a contingent workforce? 
A contingent workforce is a pool of individuals who work on a contractual basis to supplement an existing workforce. Contingent workers are generally contractors and outsourced employees who are seeking flexible work arrangements and are hired for a finite period of time to work on a specific project or contract.
The popularity of contingent workforce solutions can be seen in all sectors of business to include, Finance, Administrative, IT, Engineering, Construction and Manufacturing. Government contracting is also a popular industry for contingent labor as contractors typically have finite terms for their employment based on contract awards.
Contingent workforces allow for surge demands to be met with ease without incurring the traditional cost burdens of hiring such as medical benefits, paid-time-off, holidays and other general administrative costs and overhead.
Is a contingent workforce right for my company? 
Contingent labor gives companies an amazing advantage: the ability to utilize highly qualified personnel during increased needs for productivity quickly and cost effectively.  Labor is generally  the largest business expense and hiring quick, qualified help can present unique challenges. 
First Challenge: Recruiting
Recruiting isn't easy and it's not cheap. Oftentimes, a recruiting team is a combination of overwhelmed HR professionals who do recruiting in between their other full-time duties or internal recruiters who are posting the open positions on job boards and waiting for candidates to respond to their posting. 
Recruiting isn't a passive sport. It's an everyday, all day commitment which requires a constant search for great talent. The best contractors aren't on the market for long and if you're not constantly looking for them, they are taken quickly. 
If you're surmising that using pure contract employees (think 1099) would be easier, you'd be wrong. Contract (1099) employees are even harder to recruit and quite often cost more due to them having to pay employee and employer taxes out of their hourly rate. They also potentially have specific needs, circumstances, and demands that can make finding the right fit difficult. 
There are reasons why great talent desires the freedom of contracting when they have in-demand skill sets in a market desperate for their full-time services. They could work anywhere they want full time, yet they prefer contingent work. And because they hold their future in their own hands, they won't settle for anything less than ideal. 
Second Challenge: Speed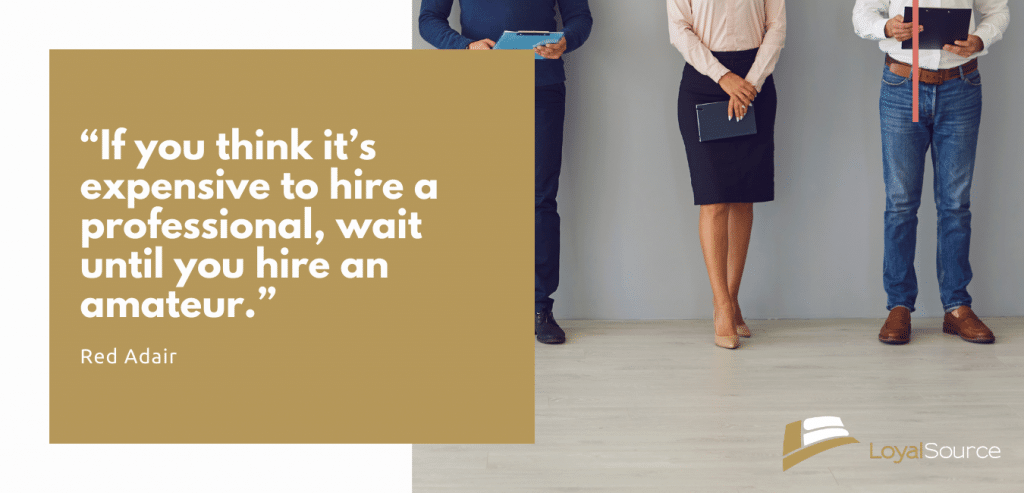 In most instances, if you need contingent labor, you either need it right this moment or in the very near future. Finding great talent quickly is no easy feat. In fact, without our database of over 1.5 million contractors, we wouldn't have the ability to find people as quickly as we do. It gives us an enormous head start. 
 "If you are considering contingent labor, you are not alone. According to Forbes, by 2050 the U.S. labor force could be made up of 50% contingent workers."
To find the best workers quickly, you need to have a multi tiered approach to team building.
A few things we believe are must haves:
Digital marketing team specializing in contractor SEO

Dedicated ads team with an appropriate budget to identify job seekers

Responsive recruiting team who can find contractors in under 48 hours

An automation team who can build custom workflows for onboarding and employee HR management

An experienced HR team who specializes in contract management and legal matters for contingent workforce  arrangements

A project manager who understands staffing and budgeting inside and out

A social media team who has a reliable presence in niche groups to find the hidden gems and promote new opportunities
Most companies who require contingent workers are in industries where hiring demands rise and fall. These demands can take many forms: long-term, short-term, niche labor, volume hiring and more. Some of the biggest federal contractors in the world rely on highly skilled contingent labor to continue providing value to their government clients. 
If you are considering contingent labor, you are not alone. According to Forbes, by 2050 the U.S. labor force could be made up of 50% contingent workers. The demand is only increasing which is why getting ahead of the curve today can increase your market advantage well into the future. 
Are contingent workers employees? 
In a majority of contingent labor agreements, contingent workers aren't employees of the company—they are independent contractors, contractors of outside firms or consultants.
 Contingent labor can take many forms and contract lengths and these workers can be integrated into a team like a corporate employee without the overhead costs.
For example in government contracting, it's not uncommon to see 3-5 year post-award workforce agreements. 
While contingent workers aren't technically "employees" of your company, they will function day to day like any employee within your organization. You will have day to day management oversight, conduct performance reviews, establish goals, and create job demands for them. 
With a contingent worker, you get all the benefits of employee production without the stock options, 401k or retirement plans, benefit management, and ancillary cost burdens. 
What are the advantages to a contingent workforce? 
A contingent workforce can become an enormous accelerator for growth and production when harnessed correctly. In fact, the U.S. Government—arguably the largest organization in the world—employs over 4 million contractors to help them achieve their goals faster, economically, and reliably. 
Advantage 1: Speed
A contingent workforce gives you the ability to scale your business and fill seats faster than any other model. And as the saying goes: time is money. 
Contracted employees can typically start immediately, arrive with needed niche skill-sets, and can contribute on day one. The savings on recruitment time, on-boarding, and training alone is enormous. 
Imagine being able to call your workforce solutions partner, request 10 employees, provide a start-date, and begin reviewing quality candidates the following week. This is contingent labor at its finest. 
You shouldn't have to wait to hire when the work is in front of you. A workforce solutions partner will help you to accelerate or decelerate your workforce on demand with minimal overhead costs associated with onboarding and reductions in force.(RIF).
Advantage 2: Cost Savings
There are substantial cost savings associated with a contingent workforce—especially when working with a great workforce solutions partner. Savings are often experienced in four core areas: Benefits, Recruiting, Marketing, and Human Resources. 
Benefits Savings
The most obvious cost savings is in the form of medical benefit savings. The contingent workforce receives their benefits from their workforce solutions provider, not the company who requested their services.   
The average cost for a healthcare package in the civilian market is $11.80 per hour. If the average employee works 2080 hours in a year, it will cost you nearly $25,000 to provide quality benefits. This doesn't include the benefit management and HR time to research new health benefit providers, facilitate Q&A sessions for the employees, conduct open enrollment, make life change adjustments to employee's accounts throughout the year, review claims and handle the myriad of other duties that accompany these types of benefits.
For self-funded plans, the cost burden would be even higher as you assume insurance risk for catastrophic events or high benefit utilizations. Add in an increased population of family benefits and your insurance risk exposure skyrockets. 
Aside from health benefits, paid-time-off, holidays, and sick time are also huge costs. With an average of seven federal holidays and 10 PTO days, you are now absorbing large non-productivity costs. 
Recruitment Savings
There are also substantial savings in the form of recruitment. Recruitment is a heavy lift for your human resources department and can become an afterthought during open-enrollments and  tax season. The contingent workforce model facilitates savings by: 
Allowing Human resources to focus on their core areas 

Minimize on-boarding management time

Less internal recruitment staff

Increase surge hiring without impacting internal staff

Eliminate candidate sourcing time

Cut interview time costs by over 50%
Marketing Savings 
With a quality workforce solutions partner, you'll also have substantial savings on marketing costs. If you aren't currently marketing your open positions on a variety of job boards and business networking sites, this becomes a major perk as your jobs will now be advertised, managed and marketed on all the major sites. 
Individual postings on the job boards can start at $150/month and run north of $1200 per application for niche listings. Social media ad spend is at least $150 per position. The average Facebook application will cost $10 per position with minimal requirements and experience needed. It can take upwards of seven to eight applications to find a qualified candidate on paper. This doesn't factor in the A/B ad testing, constant ad revisions, nurturing and ad-retargeting. Having a sophisticated Ad Manager to ensure optimal spend, create ad content and design, website SEO, or candidate application processing and tracking is important to maximize this medium.
Keep in mind, we've only touched on job boards and Facebook. There are also opportunities to purchase ads on LinkedIn, YouTube and Google all of which have a significantly higher cost point of entry which increases the overall budget necessary to achieve the desired results.. As you require talent for more technical positions, the marketing costs increase exponentially as audience targeting becomes more challenging and the cost per click increases.
Human Resource Savings
If you have a human resources department, chances are, they are already wearing multiple hats. Common HR duties can include: benefits processing, employee management, payroll processing, tax accounting and overhead costs management.
A great workforce solutions partner can ease the burden placed on human resource involvement by partnering with the HR team and the hiring authorities to determine what positions need attention and determine a strategy that best suits the needs of the organization . It can decrease recruiting time, on-boarding, benefits processing, legal processes, background checks,drug tests, timekeeping, payroll support, layoffs and employee management.
The goal isn't to eliminate your human resource department. The goal is to ensure that any contingent labor you bring into your team requires minimal oversight in areas that typically fall on the human resources team.  
Advantage 3: Minimize Empty Seats Revenue Loss
Depending on your industry, a large portion of your revenue may be dependent on billing for hours worked, especially with Government contracts. Each day a seat remains vacant, revenue is forfeited.
Contingent labor can help maximize contract revenue by ensuring quality employees are filling seats consistently. Great labor partners will have deep pipelines in place and networks they can tap into to fill seats quickly. 
Second to lost billing opportunity is the loss in productivity. Insufficient staffing will bottleneck your ability to maximize production. If you find yourself unable to meet contractual demands or you aren't moving at an optimal pace, staffing up through a contingent workforce is probably the right answer. 
When you find yourself in a labor crisis, contingent labor can come to your rescue. There are highly qualified contractors with the energy and knowledge to overcome these obstacles and push you forward.
Advantage 4: Ensure the Right Fit
A contracted employee gives you the flexibility to ensure that they are the right solution for your team's long-term health. All too often, employers find themselves in unwelcome circumstances surrounding a variety of topics regarding employment issues or benefits challenges when they hire incorrectly. 
With contract labor, this isn't the case. You'll have the flexibility to integrate a contract worker into your team and evaluate how they interact with their co-workers and what type of contribution they are able to make before committing to make them a part of your internal team.
You can start out with a narrower scope of duty and then expand it as their talents are discovered and evaluated over the course of time. If they have performed well and you don't want to chance losing them, you then have the option to negotiate a conversion agreement to bring them aboard as an internal employee.
When recruited correctly, contract workers can also shine a light on the talent and work quality of their peers as well. Many contractors come with years of experience and their talent can reset the bar for the rest of the team. 
Advantage 5: Untapped Market
When companies are hiring for internal positions, many passive job seekers fly completely under the radar. The reason is that they aren't active on job boards or applying for jobs through websites. Most have large networks that they rely on for new job opportunities.
A large majority of contractors we place are referrals and prior Loyal Source contract employees who trust us with their next opportunity. They are part of our network and are reaching out directly to us instead of utilizing job boards or networking sites to find their next employment engagement.
Are there disadvantages to a contingent workforce? 
The most common argument for the disadvantages of a contingent workforce is turnover, lack of commitment, and reliability. Let's discuss each one and how to mitigate the potential pitfalls. 
Disadvantage 1: Turnover
Contingent workers carry a bad reputation in some circles for their high turnover rates and shorter term jobs on their resumes. Conventional thinking goes, "If I'm not committed to them with a full-time employment opportunity, they will always be looking for something better. 
In a traditional temporary staffing model, this is often the case. However, it's completely dependent on the opportunity provided and there are certainly ways to mitigate turnover.
High turnover rate is often the result of bad hiring practices. You can't expect someone who wants a permanent employee status to stay on board long term through a contract. It's the job of the recruiter to fully qualify someone and understand their employment goals. 
Communication from the onset must be clear, frequent, and precise. Believe it or not, there are hundreds of thousands of highly-skilled workers who prefer contract work. Contract work allows them to pick and choose the type of work they want to do, while they continue to make meaningful contributions to an organization. 
Keep in mind, a quick search for a contractor will yield over 3 million results on LinkedIn. This isn't a small industry. 

Disadvantage 2: Commitment 
Contract positions can lead to commitment issues between contractor and employer. The greatest benefit of being a contractor is flexibility—and though a positive characteristic—flexibility can lead to contract hopping. 
Are there always commitment issues? Not typically. Unlike traditional employees, contractors understand that their reputation must be protected at all times. 
Many niche specialties (e.g., engineering, healthcare, IT and construction) tend to have highly integrated communities and word travels fast when you aren't dependable. 
It's fairly easy to mitigate many of the commitment issues with quality hiring processes in place: 
Detailed pre-screening efforts to analyze contract history and performance

Intelligent interviews with behavioral analysis questions to understand the true wants and needs of the contractor

Market competitive rates and benefit packages

A robust network of employers to vet employee prior to moving forward

References that are tailored to the type of work that is required
The majority of contractors are terrific employees. They know what they want, possess in-demand skills, and have the requisite knowledge to determine what the right opportunity looks like.
Your relationship with the workforce solutions provider, clear and open communication and employee management skills will be the key to maintaining stable, long-term contractor relationships at a fraction of the cost of full-time employees.
Disadvantage 3: Cohesion
The dynamic of your team can make contractors feel like outsiders. If you aren't prepared to integrate contractors with your internal team, you'll most certainly encounter turnover and commitment issues. 
Contractors, like any other employee, want to feel a sense of belonging. The only difference between contingent labor and an internal employee is the language in their contract. The mission, vision, commitment to your customers, production, and reliability all remain the same. 
If you expect a contractor to work as hard as your employees, you should expect to manage them the same as your employees, after all, they are ambassadors of your company.
The best way to ensure cohesion doesn't become an issue is to communicate with your internal employees who will be interacting with your contractors. Ensure that they understand how to foster an environment of acceptance and teamwork. 
Are contingent workers provided benefits? 
In most cases, contingent workers are not provided benefits during their contract. However, a growing industry—workforce solutions—is changing the way contract employees are compensated.
For example, at Loyal Source, we partner with companies to provide on-demand contingent labor while providing our employees a full complement of benefits. We believe that providing quality benefits during a contract period is an extraordinary opportunity that helps us to find the best talent for the job and develop the consistency our client's need to succeed in their mission.
Short-term talent shouldn't be lesser talent just because they are contractors or aren't receiving benefits from you. A quality partnership will provide benefits to your contingent workers to keep you competitive in the marketplace.
What types of benefits can a contingent worker receive? 
Medical benefits

Dental benefits

Paid time off

Holidays

401k

Ancillary benefits

Workplace flexibility
In the past, moving towards a contingent labor model meant eliminating the cost burden of employee insurances, benefits, and taxes all of which are detrimental to the contract employee. This strategy is being replaced with a win-win model for both contractor and employer. 
Passive job seekers and contractors with niche skills aren't going to accept a position without competitive market benefits. 97% of companies over 100 employees will offer some form of employee benefits.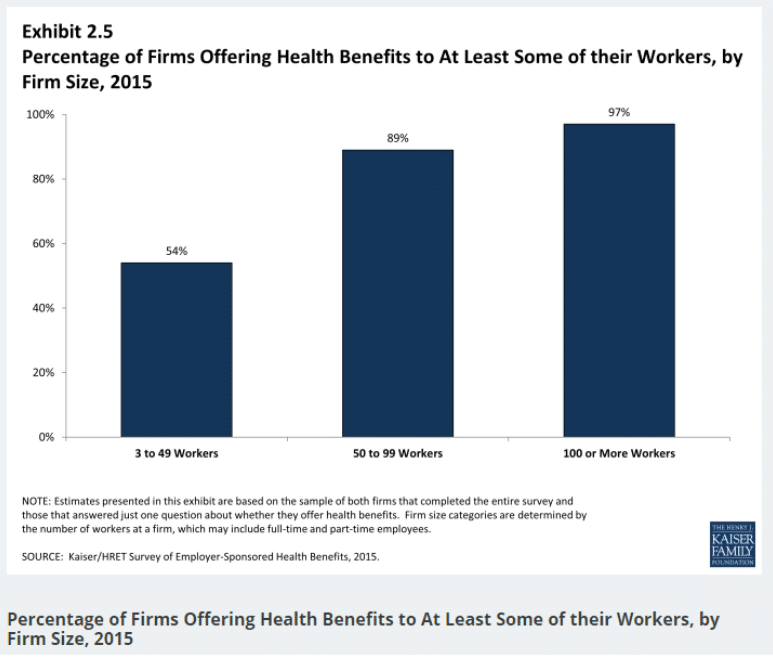 By not partnering with a quality workforce solutions provider who offers employee benefits, you'll immediately lose up to 97% of available talent in the marketplace. 
Moreover, a great workforce solutions partner will bring expertise in staffing, HR management, and employment law and speeds up the recruitment and on-boarding process while eliminating legal obstacles associated with in-house contingent staffing. 
Are contingent workers eligible for retirement benefits?
Contingent workers are not typically eligible for company retirement benefits. However, there are many instances where a contingent labor partner can provide access to retirement benefit plans such as a 401k, 403b, or retirement planning services. 
This is one of the best benefits associated with outsourcing your contingent workforce needs—maintaining retirement competitiveness. 
Providing a contingent staff access to a company 401k is what separates a standard partner from a great partner. If you want to attract the best talent, you have to remain competitive. 
Expecting a quality contractor to convert his or her existing 401k or 403b into a personal IRA isn't reasonable. Great employees will expect to roll their company sponsored retirement plans into another sponsored retirement plan with minimal effort. 
We believe all workers should have access to a tax optimized retirement plan. Working on a contingent basis shouldn't prevent anyone from planning a quality retirement through investment opportunities.
Moreover, contractors generally make extremely competitive wages which is all the more reason to provide an optimized tax vehicle for retirement. Working with a partner who provides retirement benefits will also give you the confidence that your contingent workforce is competitive. 
How do you motivate contingent workers? 
Ensuring that contingent workers integrate seamlessly into your team is the first and quite possibly the most important step in maintaining a high level of motivation for an organization. The best way to make sure they feel comfortable with your team is to ensure the following: 
Make sure they have a crystal clear job description. Nothing spells complacency like a nebulous job description. 

Ensure they have a direct supervisor who can encourage them and bring them into the team. Not having a clear line of authority will decrease communication and increase frustration. 

Introduce him or her to the team as soon as possible. All too often contract positions can feel like a revolving door and overtime simple processes like introductions can erode. 

Create an opportunity for the employee to learn new skills. Ensuring that you evaluate their skills appropriately and provide an incentive to learn new skills is key. Many contractors want to learn new skills and will work harder if they can continue to acquire them. 

Verbalize trust. We all work harder when we feel we are trusted and the best way to ensure trust is to let them know. 

Be transparent. Transparency in the contingent workforce isn't always a guarantee and there is a high likelihood that your contractor has had more than a few bad experiences. Giving them all the information, good and bad, is a refreshingly easy way to keep them on board. 
Related Questions
How is a contingent workforce solution partner different from a traditional staffing partner? A contingent workforce solution (CWS) is different because the CWS provider will offer additional benefits to the contractor that a traditional staffing firm doesn't. For example, if you want a contractor on a long-term contract with the opportunity to become permanent, you'll want to ensure they are satisfied with their job, compensation, and benefits. Most recruitment firms can only satisfy 2 out of 3—typically leaving out benefits in hopes they have healthcare arrangements outside of their assignment. This "assumption" is a surefire way to destabilize your contingent workforce. 
Can a contract laborer become permanent? Absolutely. Many contractors who love their new role, company, and compensation want to become company employees. Conversely, many employers who take on a dynamic contractor want to retain their services and keep them off the market. You can structure the contract agreement to ensure you're able to convert great contractors permanently.