A U.S. Government Security Clearance is one of the most coveted designations for any employee. And with terrific credentials, it would make sense that you'd want to put that information on your LinkedIn for prospective employers. But, is it the right thing to do and are there any risks to you, your employer, or the United States by putting your Secret Clearance on LinkedIn?
Should I put my Security Clearance in LinkedIn? In most cases, you should not put your security clearance in your LinkedIn profile. Due to national security issues, and personal security threats, publicizing your clearance status makes it easy to target you and exploit the information you have about the project you are supporting.
Why you shouldn't put your Security Clearance on LinkedIn
Being trusted with a Security Clearance is an honor and privilege as a U.S. Citizen and potential employers will certainly respect your qualifications. However, potential employers aren't the only ones on LinkedIn looking to take advantage of your credentials.
Protect your country on LinkedIn
The United States is currently fighting invisible enemies all over the globe in the form of cyber attacks. People who hold clearances that publicly affirm their clearance-level are putting a target on their back.
Most LinkedIn profiles list your employer, specialty, date of employment, and more. This information is valuable to a cyber criminal because it notifies them that you may have important information that can be exploited. Government contracts are public records which enables bad actors to identify people who may have background issues worth exploiting.
And this problem is HUGE. LinkedIn last reported they eliminated 21 million fake accounts before they were created over the course of six months in 2019. LinkedIn is taking the problem seriously with strong internal, defensive efforts.
A recent report by the New York Times spells out how Chinese hackers are using LinkedIn very effectively to target unsuspecting Government employees. Other countries no longer have to sneak spies into a country to gather intel. They can sit on LinkedIn and other social sites and connect dots much faster from their home base.
However, not all LinkedIn news is bad news. You are their prized customer, so they want to keep you safe and they are investing millions of dollars in automated defenses. They are catching an estimated 98% of problematic traffic such as spam and scammers.
According to LinkedIn's own website: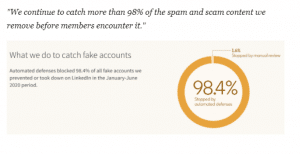 Protect Yourself on LinkedIn
 Here's the truth: if you hold a U.S. Secret Clearance, you have something many would consider more valuable than a college degree. If you have both a clearance AND a college degree, you are in even better shape and probably already have suitors knocking down your door.
We get it, you want to show your skills, accolades, and accomplishments to drive your career forward. We all feel that way, but you're not just anybody. You have economic, intellectual, and national security value to the United States and not-so-well intentioned people know that.
Once you update your profile to show your current employer and the clearance you hold, it's only a matter of time before someone tries something dishonest. The reason being, any text on your profile is searchable.
In the case below, searching "Active TS/SCI" brings up 33,000 people. Of course only a fraction of those 33k will have an active TS/SCI, but the first 5-10 pages of people are easily targeted.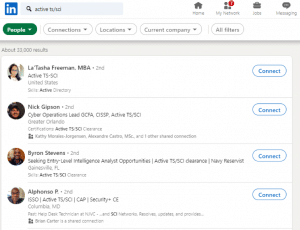 It's best practice to find creative ways around listing your clearance for the world to see. For example, instead of listing your employer as "The Pentagon," list your employer as "Top Government Agency" or "United States of America." Or, if you are a Government contractor, put your contracting firm and not the Government Agency.
If I can't list my clearance on LinkedIn, what should I do instead?
As a top Government staffing agency ourselves, here are a few helpful tips and tricks to get the best mileage from your profile and safest experience from LinkedIn.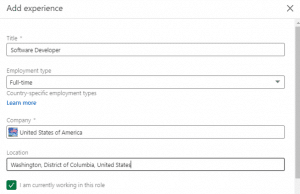 Join Clearance Groups on LinkedIn
LinkedIn has countless groups dedicated to networking for cleared professionals. Oftentimes, agencies and contractors are posting job listings for everyone to see. This is a very safe way for you to network your way to the top and stay up to date with new opportunities hot-of-the-press.
Searching for cleared networking groups is a breeze. Log into LinkedIn and in the top search bar click "cleared jobs". On the following page, select the "Groups" tab just under the search bar. Hundreds of groups will populate for your choosing.
LinkedIn was built for networking and joining groups is one of the easiest ways to accomplish this goal. If you haven't joined a group before, there's no time like the present.

POWER USER TIP
You can hide groups you are part of to keep your presence low-key.
Follow these steps to alter your public group preferences:
Next to the group name, click "More".
Click "update your settings"
Switch the toggle OFF to remove group logo
Changes will be saved automatically
This step will ensure you are looking for opportunities incognito and keep your profile safer from spammers.
Engage with agencies who work for multiple agencies like Loyal Source.
At Loyal Source, we are proud to say that we work with some of the top U.S. Agencies and renowned Government contractors. We love to hear from potential job seekers putting feelers into the market. If you are curious what we have available, take a look at our openings here.
While we certainly hope we are the right fit for your job hunting needs, we understand that we may not be the last stop. Seeking out recruiters is a great proactive step in gaining a foothold into contracts or agencies you are excited to work in.
One easy approach to finding a new opportunity is to Google your way to a job. One simple method is to use the job type + hiring + clearance level. For example, searching "C++ developer AND hiring AND ts/sci" brings up great results.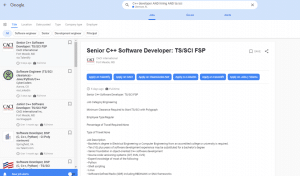 Google is the engine for all things search on the internet, so they are always cataloguing hundreds of job boards for you. It's a great aggregator of available opportunities across the internet.
Keep the Employer but Ditch the Clearance Text
Not everyone agrees with eliminating their company name or U.S. Agency from their profile–and that's okay. For those of you who are proudly displaying the government agency or project you're working on, make sure to eliminate any hints of a clearance (e.g., secret, top-secret, SSBI, Full Scope Poly, etc).
Most recruiters worth their salt will be able to put two and two together. If you work at the Pentagon as a counter-intelligence specialist, it's easy to infer you have a clearance.
When you don't list your clearance level on your profile, most interested parties will reach out to you via InMail to ask you–which is also a key indicator of a qualified opportunity; bad actors rarely upgrade their membership to premium for InMail permissions.
Should I put my security clearance on my Resume?
Putting a security clearance on your resume is situational. A best practice is to have two working resumes: one resume which has your security clearance that you can send to verified parties and one resume without your security clearance that you can send to non-verified parties.
One great aspect of LinkedIn is that when you apply for a job on LinkedIn, you can research the company first by seeing how many employees they have and other insightful information, and once you are comfortable, you can upload your resume during the job application process.
This is a great process because you don't have to worry about putting a link to your resume on your LinkedIn page. Not to mention, LinkedIn has profile pages so robust that you shouldn't have to worry about your resume.
POWER USER TIP
Creating your resume in a Google Doc can offer a few advantages. One, you always have a digital copy on hand that is shareable at the click of a button. Two, it's easily accessible on your mobile phone as you may be looking for jobs. And three, you can make your resume searchable on Google by clicking File > Publish to Web. Believe it or not, thousands of recruiters use Google to find savvy candidates who've uploaded their resumes publically.
Related Questions
Can I disclose my security clearance outside of social media? Yes, disclosing your security clearance is generally acceptable outside of social media platforms. A good rule of thumb: only disclose your security clearance in places that aren't searchable. For example, LinkedIn is a searchable platform with a search bar. Google is a searchable platform with a search bar. A resume is a perfect place to disclose your clearance as you have control over your resume.
Where should I put my security clearance on my resume? You should always put your clearance at the very top of your resume, near or around your name. Recruiting firms will often hold your resume in a candidate tracking platform that they can parse later for new opportunities on your behalf. The higher the information text sits on your resume, the more likely their database will identify you as a candidate. In fact, this rule of thumb applies to all information on your resume. Always put the most recent and important information closer to the top of your resume to help recruiters find you the perfect opportunity.